Notes from the Field: Carbon Data Collection
August 15, 2023
---
With North America approaching summer's end, Anew is still "in the thicket" of forest and agri-carbon data collection visits. Since February, teams have covered a staggering amount of ground to monitor changes across the landscapes that Anew is managing for climate benefits. Over 606,000 acres of forestland as well as over 440,000 acres of farmland have been traversed so far.
The busy season continues for our Improved Forest Management projects, where teams regularly return in-person to true up annual remote monitoring and audits to directly quantify tree growth and resulting sequestered carbon. By foot, four-wheeler, or whatever means necessary, the teams take to the woods.
Megan Finlay, Associate, Natural Climate Solutions, reflects on a spring verification in West Virginia:
"It was an ambitious trip: 70 plots from 4 projects targeted in 4 days with 4 teams...Most days consisted of long hikes and dodging a few poisonous snakes, but we managed to get done on time. The landscape of West Virginia is beautiful, and we are happy to support a healthy forest with these carbon projects."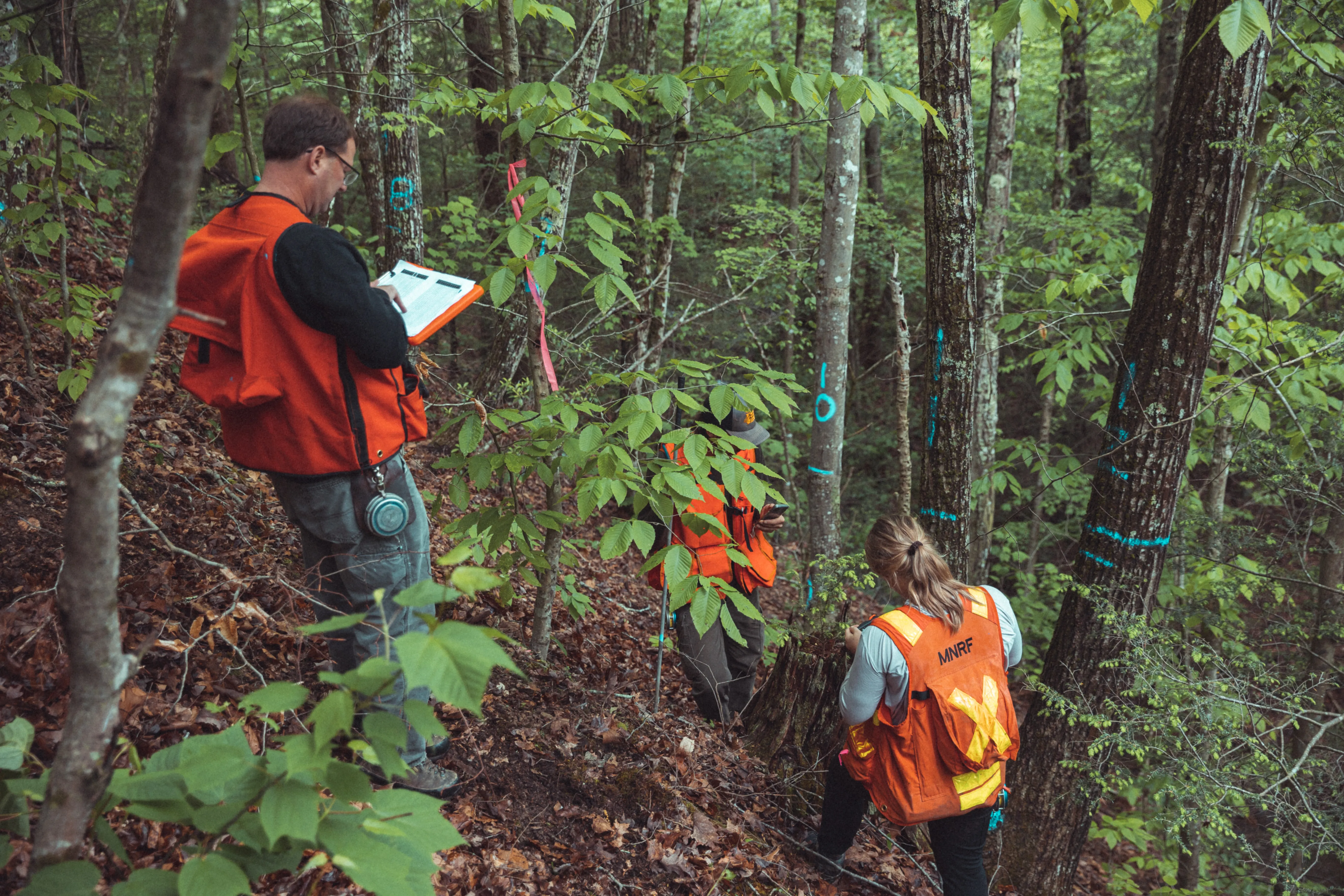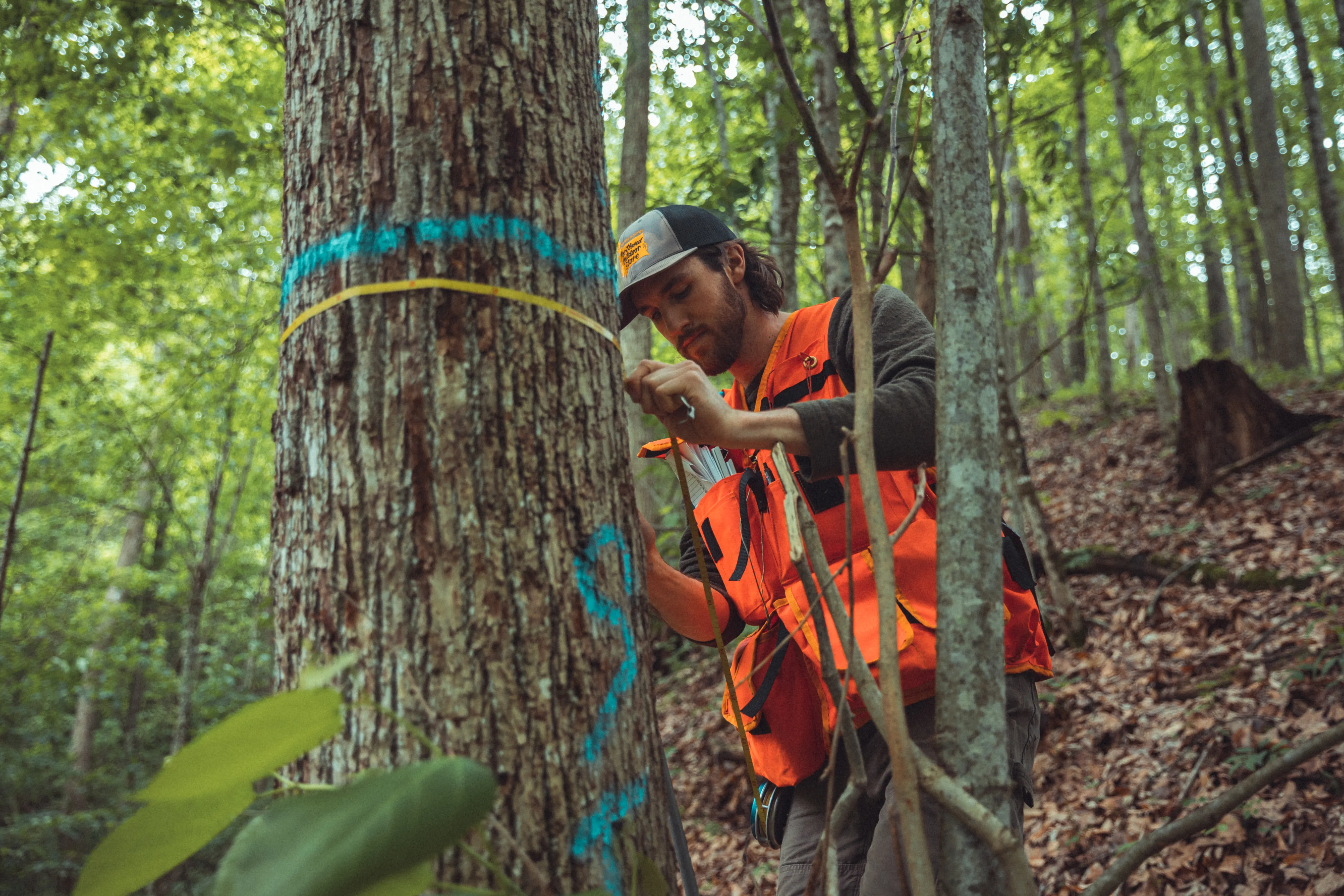 Some may wonder, how can technology assist with this? Anew leverages satellite and drone-based technology and we are currently exploring how drone-based surveys can play a part in project inventories and verifications. Anew combines data from our GIS team with airborne and satellite LiDAR visualizations to increase the accuracy of our data and the efficiency with which it is collected. When combined with in-person inventory data, Anew's use of technology allows us superior insights that translate to greater confidence in our carbon quantification. It is important to note that while technology plays a significant role, it cannot yet replace in-person precision comparing the exact trees over subsequent visits.
As our forestry program tracks sequestered carbon in tree growth, our Agri-carbon program is also knee-deep in soil sampling to monitor the same. Across Kansas, Mississippi, Colorado and other states, teams are collecting baseline measurements and in some cases measuring changes in soil organic carbon levels compared to control plots. The control plots provide a comparison to the farming practices that were in place prior to the initiation of the carbon project. Teams have collected over 100,000 vertical soil core samples since this work began in April 2023.
According to the U.S. EPA1, agriculture accounts for approximately 10% of U.S. emissions. Agri-carbon programs managed by Anew provide multiple ways for North American growers to contribute to climate action as well as the critical financing they need to implement such changes. Anew's over 20 years of experience, combined with the momentum of the carbon market and valuable partners across the agricultural supply chain, has helped over 450,000 acres of farmland and growing to participate in programs that are working to supply our food system in climate-beneficial ways.
Practices such as decreasing tilling (soil turnover) or not tilling at all between planting, the use of cover crops during the off-season, and the use of program-approved soil health products, all improve root systems and the capacity to store more carbon. Improving crop yield while also decreasing or preventing the loss of carbon stored in the soil to the atmosphere is a win-win. Reducing the use of nitrogen-based fertilizers is also creditable in Anew programs, which greatly benefits connected waterways.
With the International Union for the Conservation of Nature (IUCN) report emphasizing the criticality of nature-based solutions, and the UN position that private investments into nature-based solutions must at least double to reach global goals, the need for investment and conservation action is clear.
"Nature-based Solutions could contribute around 30% of the global mitigation required by 2030/2050 to achieve the 1.5/2°C temperature rise goal agreed to under the Paris Agreement." – IUCN position paper for COP27  

"Climate, biodiversity, and land degradation goals will be out of reach unless investments into nature-based solutions quickly ramp up to USD 384 billion/year by 2025, more than double of the current USD 154 billion/year." - UN press release, December 1, 2022  
Habitats, livelihoods, public health, and environmental quality all benefit from Anew's natural climate solutions and nature-based projects. Our continual presence on the ground is one way we commit to ensuring buyer confidence in our projects' integrity and genuine impact.
Anew is committed to the progress we have made and the significant work that remains. For today and for tomorrow, this is why we do what we do.
 
1 https://www.epa.gov/ghgemissions/sources-greenhouse-gas-emissions