Carbon market access made simple
Agri Carbon Solutions
Climate impact is growing
Anew is leading North America's transition to climate-smart farming practices as the only provider with a track record in managing aggregated carbon programs and successfully selling carbon credits at scale and premiums. We partner with a variety of enterprises to help you design, build and operate your agri carbon programs and help growers in your network realize new revenue through regenerative practices changes.
Paid for regenerative ag practice changes, creditable for carbon.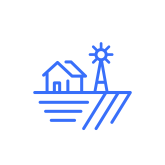 Enables grower participation through program subscription.
Program design and financing for partners, manages aggregations of growers, assumes long-term registry commitments.
Anew sells offsets and distributes proceeds; offers alternative structures to pay growers up-front, per acre.
Featured program
CarbonNOW partnership
As one example of Anew's integrated services, growers enrolled in Locus Agricultural Solutions' CarbonNOW program are enhancing their soil health, sequestering carbon, and getting paid for their contribution to the climate challenge.
Agri CARBON REDUCTION AND REMOVAL OPPORTUNITIES
Image
Soil carbon improvement
Increase soil organic carbon levels by activities such as switching to low- or no-till farming, planting cover crops, manure application, application of organic soil amendments and more.
Image
Solutions for grazing lands
Avoid conversion of grasslands, convert degraded row crops to native grasslands, or adopt rotational grazing practices that minimize soil disturbance and volatilization of carbon in soil.
Image
Reduce nitrogen use
Reduce total nitrogen fertilizer usage or reduce the volatilization rate through variable application, controlled release nitrogen, or urease inhibitors.​
 
Image
Reduce energy consumption
Implement changes that make a measurable reduction to total fuel or electricity consumption.​
Image
Reduce methane from ruminant livestock
Utilize dietary supplements for livestock that demonstrate improvement in passage rate to reduce methane emitted and employ manure management systems.
Image
Alternate wetting and drying for rice
Alternate wetting and drying of rice fields to avoid methane emissions from the decay of biomass in anaerobic conditions.
Ensuring Climate Benefit
Highest integrity
We work with the highest integrity standards to ensure demonstrable climate benefits that we and our partners can stand behind over the long run.
Why work with Anew
   
We enable your carbon program and can align with your strategic objectives.
   
The only provider with proven ability to sell offsets in the US voluntary market at scale and at a premium.
   
A successful track record in developing and administering large-scale complex offset project aggregations.
   
Streamlined data capture platform with options for automation through our partnership with data partners.
   
We align our interests with yours and only get paid when the grower gets paid.
   
Anew assumes long-term commitments on behalf of growers and makes it as easy as possible for growers to participate.
Let's talk about your options
Agri Carbon Services
Program Design
Support in designing your carbon program
Structure Carbon Finance
Structure of carbon finance to offer growers the option of upfront per-acre payments
Project Development
Develop offset projects and support the operation of your carbon program
Marketing & Sales
Marketing and sales of carbon offsets