Electric Vehicle Credit Markets
Amplifying fleet electrification opportunities
Navigating the complexities of federal & state clean fuel programs
Clean fuel programs can generate significant financial returns, reduce the cost of fleet electrification, build in operational sustainability, and/or achieve ESG objectives. At Anew, we take the complexity and risk out of the process, handling registration, credit generation, eRIN creation, REC matching/optimization, compliance, and marketing of EV credits across an established portfolio of buyers.
Renewable Fuel Standard/ eRINs
Automakers with LDEV units operating in the U.S. will be eligible for clean fuel credit generation under the Renewable Fuel Standard (RFS) in 2024. Anew is an experienced generator and marketer of Renewable Identification Numbers (RINs) in the RFS market.
Our Low Carbon Fuel Standard (LCFS) credits meet rigorous standards including independent third-party verification.
Anew advantage
Anew is the largest independent marketer of cellulosic renewable identification numbers (D3 RINs) under the EPA Renewable Fuel Standard Program and a generator of low carbon fuel standard credits (LCFS) under CA's LCFS program. Our breadth allows us to offer program opportunity at a state and/or national level. As programs increase in complexity and variety, and long-awaited pathways like RINs from renewable electricity (eRINs) take effect, Anew's dedicated compliance team helps ensure maximum returns to our clients while minimizing regulatory risk.
Port of San Diego partnership
Anew partnered with the Navy and the Port of San Diego to reduce greenhouse gases, improve air quality, and improve public health around the San Diego Bay Working Waterfront, through electrification efforts supported by participation in California's Low Carbon Fuel Standard (LCFS) program. Anew will generate and monetize the LCFS credits associated with the local activities of the U.S. Navy. Credit sales will provide essential funding towards electrification projects benefiting the local community, the broader region, and national security.
Optimizing opportunity
Low carbon fuel transportation programs create revenue generating opportunities for EV manufacturers, owners and operators.  
Image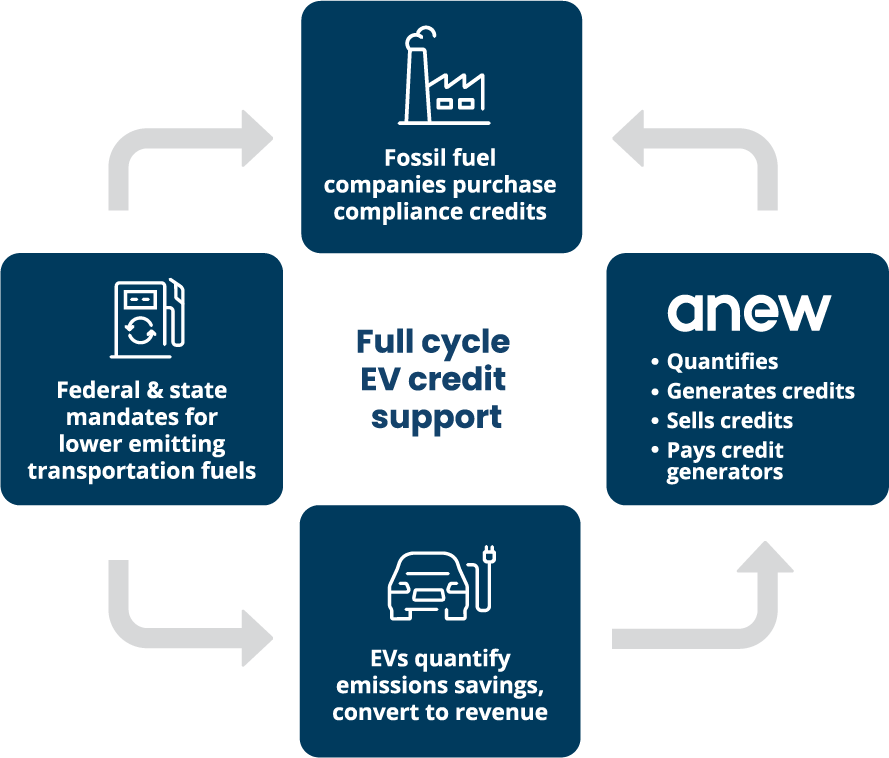 LCF compliance in British Columbia
Brightside, an Anew company, provides LCF credit generation, aggregation, and monetization services to its BC-based clients and is expanding its offering to customers seeking participation in Canada's Clean Fuel Standard.
Under low carbon fuel programs such as in California and Oregon, electric and hydrogen vehicles and equipment are eligible to generate low carbon fuel credits. The revenue from the sales of these credits can be used to offset the cost of ownership, and in most cases, results in a net profit for the fleet owner.
As an example of the climate benefit of these programs, once converted to renewable electricity, a typical EV city bus is projected to reduce carbon emissions by 1,250 MT per year, the equivalent of removing 270 gasoline powered vehicles from the road.
Electric light duty vehicles, eTrucks, eTRUs, RNG/EV buses, eForklifts, and EV charging infrastructure are among the eligible equipment and vehicle types to generate low carbon fuel credits.
An electric forklift can earn on average $2K per year when powered by low carbon fuel. Electric delivery vans and trucks can earn $5K and an electric heavy-duty vehicle can earn $30K on average per year.